To be a good shooter , you need to be skill, it's not easy to shoot a moving target, even more with a tiny little bullet.
OMG this is my first actual post of the year, really want to wish an Happy New Year to all my wonderful reader, hope you will stick around for the rest of the year.
---
Now before giving you my pick for this day, let's see if my dear friend guess right. according to her, I could have gone with Kougami Shinya from Psycho-Pass. Ko is a logical choice, he is indeed quite skilled when he use the Dominator, but I already choose him for a previous day, thus I can't pick him a second time.
So who did I choose ??
My first choice is Spike Spiegle from Cowboy Bebop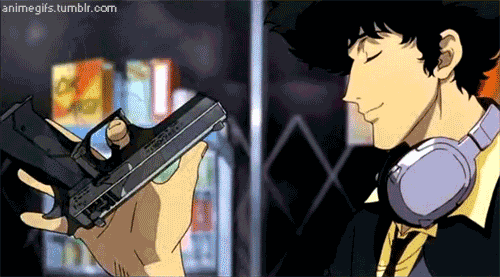 Spike can not only kick your ass with move martial art move but if you are out of range of his long leg, he will shoot you like a rabbit in his hole.
From my second choice, I decide to go with Train Heartnet from Black Cat
I didn't watch the anime, but I read the manga. I know Train was quite feared when he was still part of Chronos. He have a really good vision and never miss his target.