Basic Information
English Title: Hamatora
Genre: Comedy, Mystery, Super Power
Original Aired Date: Jan 8, 2014 to Mar 26, 2014
Episode Count: 12
Rating: R – 17+ (violence & profanity)
---
Synopsis
The ability to create miracles is not just a supernatural phenomenon; it is a gift which manifests in a limited number of human beings. "Minimum," or small miracles, are special powers that only selected people called "Minimum Holders" possess. The detective agency Yokohama Troubleshooting, or Hamatora for short, is composed of the "Minimum Holder PI Duo," Nice and Murasaki. Their office is a lone table at Cafe Nowhere, where the pair and their coworkers await new clients.

Suddenly, the jobs that they begin to receive seem to have strange connections to the serial killer whom their friend Art, a police officer, is searching for. The murder victims share a single similarity: they are all Minimum Holders. Nice and Murasaki, as holders themselves, are drawn to the case—but what exactly is the link between Nice and the one who orchestrates it all?
Opening and Ending
Opening

Ending

---
I think the first time I heard about Hamatora the Animation was on Karadi blog and then I heard about it again on an obscure LINE chat room. So after ending Norgami, I was wondering if I should watch the second season of Noragami or start watching Hamatora. I must admit that I'm glad that I choose the second option. Not that I didn't like Noragami it's just that if I have to choose between the two, Hamatora win. This is a post about the first season, thus the title Hamatora the Animation, the post about the second season Re: Hamatora will come once I watched it.
So what the story is about? The series revolves around Nice and Murasaki with their awesome supporter, Ratio, Birthday, Honey, Three, Art, Hajime, Koneko and Master. Not sure about Koneko and Master but all the other are Minimum Holder, in other word, they have super power that can be activated by doing certain thing, Murasaki trigger his power by removing his glassing, while Nice triggered it when he put his headphone and snap his finger.
But what is Hamatora? Simple it's the name of the agency of what he can called handyman. The group accepted job from clients, which can got from bodyguard to tail an unfaithful boyfriend. The Hamarota has it's office in the Café Nowhere own by Master.
Through the series, the agency accepted various job that all end-up connected. All the job involve people who aren't Minimum Holder at first, but gain the power with the help of some individual.
The series have a lot of interesting character even if they can be borderline cliché, like the PI Duo, Nice and Murasaki, Nice doesn't always thing before acting and Murasaki have to clean behind him. Not the first time we see that in anime, but it's the type of duo I enjoyed watching. But don't let you fool by Nice, he is more intelligent than he appear. My favorite character is certainly Murasaki, he is totally my type, but I must say I rather Nice power.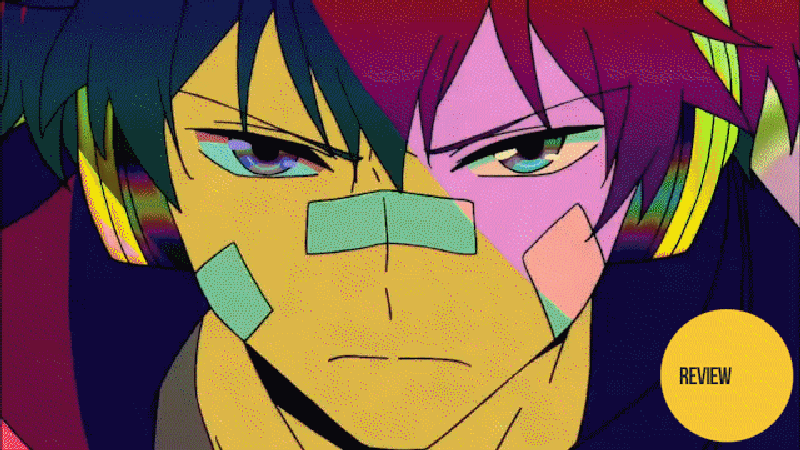 The series have quite a good pace in my opinion, it doesn't drag for ten episode the same file and it doesn't beat around the bush. We meet the antagonist quite early in the series, but we doesn't know his full motive. Regarding the ending it was cool and kind of surprising, but I enjoyed it cause I knew there was a second season. If I haven't known it I would have been a bit disappointed
The series have a really cool opening, "Flat" by livetune adding Yuuki Ozaki from Galileo Galilei. I love Ozaki voice, therefore it's normal for me to enjoy this opening. As for the ending "Hikari", it's performed by Wataru Hatano who is also voicing Murasaki.
---
I really enjoyed the series more than I thoughts. Gonna start the second season soon, with the way the first season end, the second will be promising. I will write the post about it once I'm done.
People who are wondering if they should watch this anime I'll tell them if You watch and enjoy Bungou Stray Dog you might enjoy Hamatora as well.
For those whom already watch it, did you like it ? Let me know what you though of it.