Earlier this week, on Tuesday to be precise, I published a post about the manga series Black Cat and I thought I could make this week "Get to Know Me" about this series and since I take my sources in the manga, I will not include the opening and/or ending of the anime adaptation.
---
Top 3 Favorite Characters
Train Heartnet
He was an assassin with what he could call a stable job, he was fear and respected, but he decide to throw everything away to become a stray cat and a sweeper. The guy have a perfect vision, he is probably able to shoot a fly.
Baldorias S. Fanghini
He is the number VIII (8) of the Chronos Number he was the number tattooed on his neck. He got raised to become an assassin, it's the only thing he can do and think about. He really care about Chronos and see Train as a traitor.
Sven Volldfield
He is Train partner and also a sweeper. He was once a police inspector. During an attack he lost his right eyes, but when his partner from the time he was inspector who registered as donor organ died, he receive his eyes. His part was a clairvoyant and by receiving his eyes Sven also gain this ability.
Most Hated Character
Creed Diskenth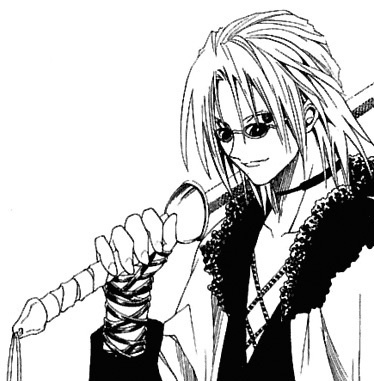 I just hate the guy I can't the sole reason why he killed Saya it's because he thought she had thrown a spell at Train and that why he was becoming weak.
Most Annoying Character
None
---
Rank the Chronos Number (only the one from the manga)
1 – Bardolias S. Fanghini (VIII)
2 – Naiver Bruckheimer (v)
3 – Jenos Hazard (VII)
4 – Lin Shaolee (X)
5 – Kranz Maduke (IV)
6 – Sephiria Ark (I)
7 – Belze Rochefort (II)
8 – Beluga J. Heard (XI)
Technically I should also had Mason Ordrosso to this list, but in the manga we only see him once on the boat at the end.
Rank the Favorite Apostles of the Star
1 – Charden Flamberg
2 – Kyoko Kirisaki
3 – Leon Elliot
4 – Eathes