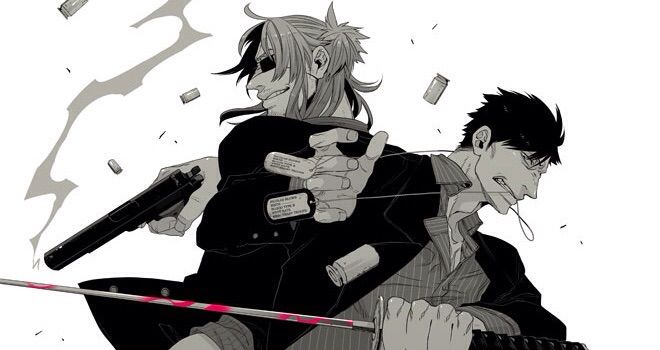 The manga series is created by Kohske and the anime is produced by Manglobe (Samurai Champloo, Ergo Proxy), the series originally run between July 2015 and September 2015. The series count twelves episode. As for the manga there is 7 volume (41 chapters) release so far.
Synopsis
Nicholas Brown and Worick Arcangelo, known in the city of Ergastalum as the "Handymen," are mercenaries for hire who take on jobs no one else can handle. Contracted by powerful mob syndicates and police alike, the Handymen have to be ready and willing for anything. After completing the order of killing a local pimp, the Handymen add Alex Benedetto—a prostitute also designated for elimination—to their ranks to protect her from forces that want her gone from the decrepit hellhole of a city she has come to call home. However, this criminal's paradise is undergoing a profound period of change that threatens to corrode the delicate balance of power.

Ergastalum was once a safe haven for "Twilights," super-human beings born as the result of a special drug but are now being hunted down by a fierce underground organization. This new threat is rising up to challenge everything the city stands for, and the Handymen will not be able to avoid this coming war.
Credit My Animelist
Trailer

---
Okay so I finished watching the series not a long time ago and now I'm left with a bitter-sweet feeling. I really enjoyed the series at least I liked what the shown us. But sadly the studio declared bankrupt and now we can pretty much forget the next season or maybe more the rest of the series cause the last episode end like if there is
more episode to come in the season. Plus like if that wasn't enough the creator of the series doesn't have a really good health and she need to be hospitalized quite often she even had to take a hiatus and she said she will resume the series this year's.  So there is hope to see one day new stuff for that amazing series. Meanwhile we can still read the spin-off Gangsta : Cursed : Marco EP. which mainly follow the story of Marco Adriano. It's still written by Kohske but it's illustrated by her assistant Syuhei Kamo.
Gangsta have great characters one of my favorite, if not my favorite, is Nicolas Brown. The guy is deaf but can still kill you even if his eyes were closed. Despite the fact that he is not a cinnamon roll and can definitely kill you, I found him really precious, his stubbornness IS precious. The guy never really know when to stop unless Worick order him.
I also really liked all the design of Ergastulum in general. It remind me of some kind of an old medivial town in Europe.
The hip-hop producer Tsutchie did a really nice job on the OST of the anime. My favorite theme is most probably A/0

---
Opening

Ending

Must say that visually speaking the opening is great, I wasn't really fond of the song at first but I ends-up liking it after a couple of episode. As for the ending the first time I actually listened to it completely was when I wrote this entry.
---
Now would I recommend the anime series, nope you will end up disappointed like me. The story idea is cool, really like the plot and everything. There is a lot of interesting characters BUT the anime series will forever be unfinished unless some other studio decide to take care of it. I would definitely keep an eyes on the manga. Even if we never really know when the next chapter will come.
Bonus: Nico being scare as fuck of the doc…not gonna lie I would be scare too